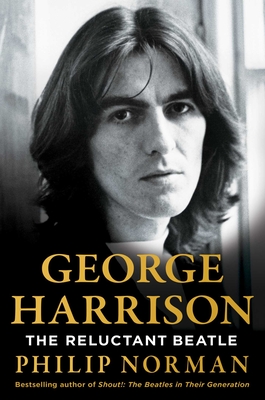 George Harrison: The Reluctant Beatle
Publication Date:
October 24th, 2023
Usually Ships in 1 to 5 Days
Description
From the premiere Beatles biographer—author of the New York Times bestseller John Lennon: The Life and the million-copy selling Shout!: The Beatles in Their Generation—a rare and revealing portrait of George Harrison, the most misunderstood and mysterious Beatle, based on decades-long research and unparalleled access to inside sources.
Despite being hailed as one of the best guitarists of his era, George Harrison, particularly in his early decades, battled feelings of inferiority. He was often the butt of jokes from his bandmates owing to his lower-class background and, typically, was allowed to contribute only one or two songs per Beatles album out of the dozens he wrote.
Now, acclaimed Beatles biographer Philip Norman examines Harrison through the lens of his numerous self-contradictions. Compared to songwriting luminaries John Lennon and Paul McCartney he was considered a minor talent, yet he composed such masterpieces as "While My Guitar Gently Weeps" and "Here Comes the Sun," and his solo debut album "All Things Must Pass" achieved enormous success, appearing on many lists of the 100 best rock albums ever. Modern music critics place him in the pantheon of sixties guitar gods alongside Eric Clapton, Jimi Hendrix, Keith Richards, and Jimmy Page.
Harrison railed against the material world yet wrote the first pop song complaining about income tax. He spent years lovingly restoring his Friar Park estate as a spiritual journey, but quickly mortgaged the property to help rescue a film project that would be widely banned as sacrilegious, Monty Python's Life of Brian. Harrison could be fiercely jealous, but not only did he stay friends with Eric Clapton when Clapton fell in love with Harrison's wife, Pattie Boyd, the two men grew even closer after Clapton walked away with her.
Unprecedented in scope and filled with numerous color photos, this rich biography captures George Harrison at his most multi-faceted: devoted friend, loyal son, master guitar player, brilliant songwriter, cocaine addict, serial philanderer, global philanthropist, student of Indian mysticism, self-deprecating comedian, and, ultimately, iconic artist and man beloved by millions.
Praise for George Harrison: The Reluctant Beatle
"George Harrison offers a full serving of Beatlemania through the specific lens of the group's youngest member. The entire dynamic of The Beatles is on full display in these career-spanning chapters. Thanks to illuminating anecdotes that reveal the band's complex relationships, Beatles fans will be enthralled page after page."
—BookPage
"Being in the Fab Four might have given Harrison fame, wealth and boundless opportunity, but as Philip Norman shows in this absorbing biography [with] its eye for period detail, the burden it placed on his far-from-resilient shoulders stayed with him for the rest of his life."
—Wall Street Journal
"Norman has fashioned an authoritative portrait of Harrison that leaves you liking and feeling sympathy for his subject while being fully aware of the tetchiness…that was never far away. Norman is something of a one-man Beatles industry."
—The Times of London
"[A] wonderful new biography. . . Philip Norman captures [Harrison's] class consciousness vividly [and] does a marvelous job evoking Harrison's working-class Liverpool upbringing. Norman writes with a mix of affection, irreverence and whimsy that feels perfectly aligned with his subject."
—Robert Dean Lurie, The Spectator World
"Norman captures the creativity, the humanity, and the great humor of the man in this keen and lovely tribute."
—Booklist (starred review)
"Norman knows his subject and the soulful torments Harrison endured. A well-informed biography of an enigmatic musician."
—Kirkus Reviews
"George Harrison was not just the reluctant Beatle. With his wizardly vim on the guitar, feathery voice, and knack for songcraft, he was certainly the most underrated one. Here, the Fab Four's inimitable chronicler Philip Norman gives us the portrait of Harrison's remarkable life that only he can: myth-dispelling, richly detailed, and full of humor. The story of how this young, poor, quiet Liverpool kid rose to musical mastery and fame is the triumph of an oft-overlooked hero—and a delight on every page."
—Ian S. Port, author of The Birth of Loud