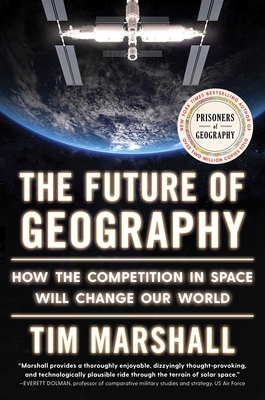 The Future of Geography: How the Competition in Space Will Change Our World (Politics of Place)
Publication Date:
November 7th, 2023
Usually Ships in 1 to 5 Days
Description
From the New York Times bestselling author of Prisoners of Geography and leading geopolitics expert comes a must-read book on today's space race—including the increasingly tense power struggle between the US, China, and Russia and what it means for all of us here on Earth.
Spy satellites orbiting the moon. Space metals worth more than most countries' GDP. People on Mars within the next ten years. This isn't science fiction—it's reality.
Humans are venturing up and out, and we're taking our competitive spirit with us. Soon, what happens in space will shape human history as much the mountains, rivers, and seas have impacted civilizations around the world. It's no coincidence that Russia, China, and the USA are leading the way. The next fifty years will change the face of global politics and the world order as we know it.
In this gripping work, bestselling author Tim Marshall navigates the new geopolitical landscape to show how we got here and where we're heading. Extensively researched and drawing on the latest information from intelligence, government, and civilian institutions, this book provides a detailed, clear account of the new space race, the power rivalries, and how technology, economics, and war have a ripple effect on everyone across the globe. Written with all the insight and wit that have made Marshall one of the world's most popular and trusted writer on geopolitics, The Future of Geography is an essential read about global power, politics, and the future of humanity.
Praise for The Future of Geography: How the Competition in Space Will Change Our World (Politics of Place)
"Insightful, hopeful and endlessly fascinating, Marshall's latest non-fiction masterpiece sets out the possibilities and pitfalls that lie ahead." —Daily Express 
"Written with insight and great wit, this is an essential take on power, politics and the future of humanity from the UK's most popular writer on geopolitics." —Daily Telegraph
"Thought-provoking. . . . Marshall's assessments intrigue, and he provides valuable insight into an overlooked aspect of space exploration." —Publisher's Weekly
"Compelling . . . Marshall demonstrates a refreshing understanding of the new space age – one in which humanity will go into space and stay there . . . His book is an important contribution to the growing work of space-power . . . readable, intelligent and forward-leaning. It provides a practical vision of our necessary future in space, and I recommend it." —Brandon J. Weichert, Times Literary Supplement 
"Tim Marshall boldly goes where no geopolitical thinker has gone before." —Business Post
"Lead[s] the reader on a voyage of galactic discovery." —The Mail on Sunday 
"Marshall is an engaging writer, good at explaining the science as well as the politics, and with an eye for a telling fact." —New Statesman 
"[An] engaging exploration of power politics in space." —Irish Independent 
"A superb survey of planetary politics' Bryan Appleyard." —The Sunday Times 
"Tought provoking and worrying in equal measures." —Popular Science
"[Tim's] prose is brisk in pace and refreshingly crystalline in its clarity, affording a highly readable lesson in historical geopolitics . . . deeply thought-provoking." —BBC Sky at Night 
"A prophetic vision of what the geopolitics of space could look like over the next 50 years." —ClimateWithBrian.com  
"The author of Prisoners of Geography examines how leaping into space is both technically feasible as well as economically necessary. . . . This is an engaging, informative read, and Marshall displays flashes of wit and a thorough understanding of the issues. A well-researched, insightful, infectiously enthusiastic book." —Kirkus Reviews
"In his typical style—wielding a wickedly clever pen—Marshall provides a thoroughly enjoyable, dizzyingly thought-provoking, and technologically plausible ride through the terrain of solar space. Along the way, he shows how irretrievably entwined with space humanity has become, pathways to a space future we could take and, fortunately for us, a few that we should. I'm envious. This is a book I wish I could have written. Fortunately, I got to read it." —Everett Dolman, professor of comparative military studies and strategy at the US Air Force's Air Command and Staff College (ACSC), and author of Astropolitik: Classical Geopolitics in the Space Age
"In The Future of Geography, Tim Marshall again demonstrates his unique ability to write wonderfully engaging must-read books which reveal startling facts. The Future of Geography takes us on a gripping and amazing journey, to guide us expertly and often amusingly into the exploration of space and its profound implications for those of us left behind on planet earth." —Ian Goldin, professor of globalisation and development at the University of Oxford, and author of Terra Incognita: 100 Maps to Survive the Next 100 Years 
"A chilling, insightful exploration of the political and military implications of our presence in space." —Brian Clegg, author of Final Frontier 
"This stirring book shows why astropolitics matters for everyone on Earth—not just the scientists and the dreamers."  —Dr Bleddyn E. Bowen, author of Original Sin and War in Space 
"Astropolitics is a word I never thought would enter my lexicon—but after reading this fascinating book, I'm hooked!" —Dr. Becky Smethurst, astrophysicist at the University of Oxford and author of A Brief History of Black Holes