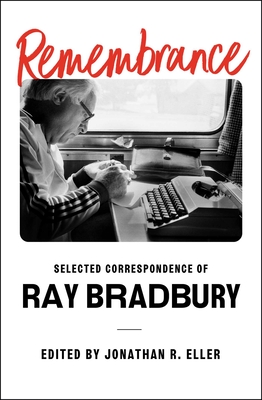 Remembrance: Selected Correspondence of Ray Bradbury
Publication Date:
November 7th, 2023
Publisher:
Simon & Schuster
Usually Ships in 1 to 5 Days
Description
Iconic author of Fahrenheit 451, The Martian Chronicles, and Something Wicked This Way Comes, Ray Bradbury believed that, someday, a collection of his letters could illuminate the story of his life in new ways. That story emerges across time and memory from the pages of Remembrance.
Ray Bradbury was one of the best-known writers and creative dreamers of our time. The many honors he received, which included an Emmy and an Academy Award nomination for adaptations of his work, culminated in the 2000 National Book Foundation's Medal for Distinguished Contribution to American Letters, a 2004 National Medal of Arts, and a 2007 Pulitzer Prize Special Citation. For many years NASA and the Disney Studio felt the impact of Ray Bradbury's creativity, and his fiction has found its way into hundreds of anthologies, textbooks, and the National Endowment for the Arts' Big Read program. His enduring legacy as a storyteller, novelist, and space-age visionary radiated out into popular adaptations for stage, film, and television, and now the fascinating narratives and insights of his personal and professional correspondence are revealed for the first time.
Remembrance offers the first sustained look at his life in letters from his late teens to his ninth decade. Bradbury's correspondence was far-reaching—he interacted with a rich cross section of 20th-century cultural figures, writers, film directors, editors, and others who simply wanted insights or encouragement from a writer who had enriched their lives through his stories and novels.
Bradbury scholar and biographer, Jonathan R. Eller, organized this volume into categories of correspondents, showing Bradbury's progression through life as he knew it, and not necessarily as the public perceived him. Letters to and from mentors and other writers are followed by correspondence with such film directors as John Huston, François Truffaut, and Federico Fellini. Letters with publishers and agents are followed by letters that capture moments of national and international recognition, the shadows of war and intolerance that motivated some of his best writing, and the friends and family members who shared the memories of his life. Among the writers whose letters illuminate Remembrance are Theodore Sturgeon, Sir Arthur C. Clarke, Twilight Zone writers Charles Beaumont and Richard Matheson, Dan Chaon, Bernard Berenson, Nobel Laureate Bertrand Russell, Graham Greene, Anaîs Nin, Gore Vidal, Carl Sandburg, and Jessamyn West.
Remembrance illuminates the most elusive aspect of Ray Bradbury's wide-ranging writing passions—the correspondence he sent and received throughout his long life, each letter originally intended for an audience of one.
Praise for Remembrance: Selected Correspondence of Ray Bradbury
"Over his stellar 75-year career, genre-bending dark fantasy novelist/playwright Ray Bradbury corresponded with just about everyone from science fiction grandmasters to U.S. presidents to Hollywood directors. Capturing Bradbury's easy sincerity, abundant enthusiasm, and mid-century Midwestern drawl, Byron Wagner leads a fine group of voice talents in narrating Bradbury's letters and the illuminating responses he received from Arthur C. Clarke, Graham Greene, Frederico Fellini, and others. Bradbury discusses his family, fortune, THE MARTIAN CHRONICLES, MOBY-DICK, blacklisting, the Space Age, world literature, and, most importantly, his work. He loved his chosen profession, and listening to his comments on the process and discipline of the craft is an education in itself. Entertaining, vibrant, and edifying. The world, words, and thoughts of a true American treasure."
— AudioFile Magazine
"Fans of Bradbury and literature in general will relish this rich, well-curated collection."—Kirkus 
"Remembrance is a true labor of love and belongs in any library that has a Ray Bradbury collection."—Booklist (Starred)
"[A] panoramic portrait of Bradbury that's as forthright as it is revealing. Bradbury's fans will want to check this out."—Publishers Weekly
"Here is a book—and a soul—to treasure."—The American Conservative