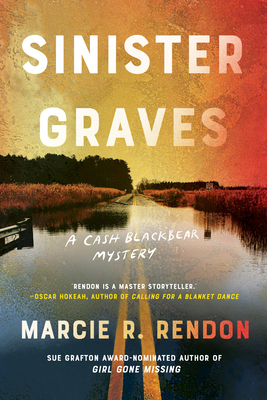 Sinister Graves (A Cash Blackbear Mystery #3)
Publication Date:
September 12th, 2023
Usually Ships in 1 to 5 Days
Description
"Marcie Rendon is writing an addictive and authentically Native crime series propelled by the irresistible Cash Blackbear—a warm, sad, sharp, funny and intuitive young Ojibwe woman. I want a shelf of Cash Blackbear novels! To my delight I have a feeling that Rendon is only getting started."
—Louise Erdrich, Pulitzer Prize-winning author of The Night Watchman
Set in 1970s Minnesota on the White Earth Reservation, Pinckley Prize–winner Marcie R. Rendon's gripping new mystery follows Cash Blackbear, a young Ojibwe woman, as she attempts to discover the truth about the disappearances of Native girls and their newborns.
A snowmelt has sent floodwaters down to the fields of the Red River Valley, dragging the body of an unidentified Native woman into the town of Ada. The only evidence the medical examiner recovers is a torn piece of paper inside her bra: a hymn written in English and Ojibwe.
Cash Blackbear, a 19-year-old, tough-as-nails Ojibwe woman, sometimes uses her special abilities to help Sheriff Wheaton, her guardian, with his investigations. When Cash sees the hymn, she knows her search for justice for this anonymous victim will lead her somewhere she hasn't been in over a decade: the White Earth Reservation, a place she once called home.
 
When Cash happens upon two small graves in the yard of a rural, "speak-in-tongues kinda church," she is pulled into the lives of the pastor and his wife while yet another Native woman turns up dead and her newborn is nowhere to be found.
Praise for Sinister Graves (A Cash Blackbear Mystery #3)
Praise for Sinister Graves
A Minnesota Book Award Finalist
An MPR News Best Book of 2022
A Ms. Magazine Most Anticipated Book of 2022
A Publishers Weekly Big Indie Book of Fall
A CrimeReads Most Anticipated Crime Book of Fall
"Marcie Rendon is writing an addictive and authentically Native crime series propelled by the irresistible Cash Blackbear—a warm, sad, sharp, funny and intuitive young Ojibwe woman. I want a shelf of Cash Blackbear novels! To my delight I have a feeling that Rendon is only getting started."
—Louise Erdrich, author of the Pulitzer Prize-winning novel The Night Watchman

"[A] winning 1970s-set series."
—Sarah Weinman, The New York Times Book Review
"Like Cash's life, there's a rawness and a poetic leanness to Rendon's prose. The plot is quick with no excess, building to a confrontation that's inevitable and electrifying. Rendon's writing is quick and sharp and unflinching in its honesty . . . Haunting and truly gripping."
—Carole E. Barrowman, Star Tribune

"Marcie R. Rendon has me cheering on Cash Blackbear even more vociferously in her latest mystery! Marcie writes the way Anishinaabe people view the world — full of rich descriptions and layered storytelling. While confronting difficult truths about religion and the value of Indigenous lives, Marcie shares revelatory moments of Cash awakening to her own worth."
—Angeline Boulley, New York Times bestselling author of Firekeeper's Daughter
"A powerful, textured, and haunting authentically voiced noir—the kind of book only Rendon could write. The prose is visceral and impossible to ignore, with a story that is bursting with memorable, three-dimensional characters like Cash Blackbear. The best novels in our genre transport readers to new places and times through a knowing, thoughtful guide. Sinister Graves does that and so much more. This book lingers with you in the best way possible."
—Alex Segura, bestselling and acclaimed author of Secret Identity

"Marcie R. Rendon pulls us into a gritty Native American noir about a rebel with a supernatural verve: Cash Blackbear. She's as mysterious as she is deadly, and after five minutes in Cash's presence I was intrigued and charmed. Sinister Graves is a gripping novel that digs into the sacred and unearths haunting fragments of reservation life. Rendon is a master storyteller and binds us inside the depths of our own psychological cellars, from which we may never return."
—Oscar Hokeah, author of Calling for a Blanket Dance
"Sinister Graves is a gripping, must-read mystery. The rhythm brings to mind Sue Grafton at her finest, but Cash Blackbear, the story's beating heart, is a character all her own. She's both fierce and vulnerable, and I'd follow her anywhere."
—Jess Lourey, Edgar-nominated author of Unspeakable Things

"As a storyteller in general, Rendon is masterful. She is straightforward in her writing and plot building, avoids hyperbole, and makes you care about her characters. The violence she described in Sinister Graves is not gratuitous. Instead, through her superhero, Cash, Rendon shines a light on the actual epidemic of violence against American Indian women in the U.S."
—The Circle: Native American News and Arts
"Rendon writes through an Indigenous lens . . . [She] addresses topics like Missing and Murdered Indigenous Women, religion and historical trauma in a way that's not weighed down or overbearing."
—MPR News
"Absorbing . . . If you enjoy rural crime writing that offers unique characters and vividly evoked settings along with intriguing plotlines laced with real-life issues, then run, don't walk to add Marcie R. Rendon's superb books starring tough Ojibwe teenager Cash Blackbear to your must-read pile."
—Mystery Scene
"A riveting read from start to finish."
—Midwest Book Review
"[Cash is] an engaging character."
—Toronto Star
"A gripping look at missing, murdered Indigenous women."
—The Seattle Times
"Propulsive . . . Rendon's mystery novel simultaneously grips and informs, depicting modern Native American issues and drawing attention to the violence committed against one of America's most vulnerable populations. Powerful and haunting, Sinister Graves is a riveting character-driven mystery with the fierce and nuanced Cash Blackbear at its helm."
—Electric Literature
"I fell fast and hard for Rendon's Renee "Cash" Blackbear. The pool playing, beer drinking, hard-nosed 19-year-old Cash is the perfect anti-hero as she juggles a tough exterior that's protecting someone who's been through a lot. Cash drives this story, and you will follow her down any trail to solve the crime."
—B&N Reads
"In Cash Blackbear, an irresistible, beautifully rendered mix of smart, shy, prickly, fierce, and vulnerable, Marcie R. Rendon has created a character we could read about all day long. Readers will be riveted by Cash . . . Addictively readable, as Rendon can make even the purchase of used tires, or a night at the pool club a suspenseful and character-revealing exercise."
—Amazon Book Review
"Rendon's mystery novels simultaneously inform and entertain readers, presenting current Native American issues through her heroine's efforts to solve crimes perpetrated against society's more vulnerable members in the early 1970s . . . Rendon's stories create a world for Cash that readers will want to inhabit."
—Chicago Review of Books
"Thank goodness, Cash Blackbear is back! If you like a good mystery, this will be right up your alley."
—Ms. Magazine
"Once again, Rendon immerses us in the 1970s Midwest and gives readers a plot to carefully consider."
—CrimeReads
"The terrifying conclusion is sure to have listeners on the edge of their seats."
—Audiofile Magazine
"Following along as nineteen year-old Cash finds herself, even as she struggles to do the right thing by the dead and by a culture that was not only forcibly taken from her but is now wary of her attempts at reintegrating at least some aspects of her heritage, is an absorbing, fascinating journey, with an intriguing mystery framework to help propel the narrative."
—Criminal Element
"Rendon infuses her novels with compassion for Indigenous women who are missing or killed and never found. Cash's toughness, commitment to justice and vulnerability honor those women."
—Pioneer Press
"A compelling and suspenseful murder mystery . . . An addictive and engaging story. Cash is a tough and smart character. I wholly enjoyed this book."
—KAXE Northern Community Radio
"Downright chilling. With expertly crafted suspense, the story is a page turner both when Cash is on and off the case."
—Longfellow Nokomis Messenger
"A fantastic whodunit."
—KARE 11
"A superb slice of character-centric crime."
—Mystery Scene
"[Rendon] writes in an easy style that braids the mystery with Cash's everyday life - playing pool, taking classes, drinking beer - in prose that is both matter-of-fact and graceful."
—Reviewing the Evidence
"A gripping mystery with enough fascinating characters and chilling problems to keep readers up reading until all hours . . . Great writing, snappy dialogue, and a very compelling story make this a must-read for mystery fans."
—San Francisco Book Review
"The engaging main character, Cash, makes this story resonate . . . Recommended for readers wanting a character-driven murder mystery."
—Historical Novels Review
"[Sinister Graves] feels extremely, extremely relevant for really tragic reasons that have to do with . . . the violence that happens to Indigenous and Native folks on reservations and, specifically, the disappearance of Native girls and women."
—BookRiot's All the Books! Podcast
"Marcie Rendon has created a series with such authenticity, and such a nuanced main character, that I want it to go on for a good long time. I would recommend these books to anyone who likes a good mystery, a strong main character, a superb sense of place, and a writing style that draws readers right into the heart of each book."
—Kittling Books
"Fans of rural mysteries laced with unique characters, vivid settings and intriguing plot lines should add Rendon to their must-read list . . .  Rendon offers a very good murder mystery and much more, using her character-centric writing toexplore prejudice and injustice."
—New Zealand Listener
"Emotionally intense . . . [Rendon] skillfully handles sobering social issues of stolen children and isolated young adults who feel loss. Recommend to readers of David Heska Wanbli Weiden's award-winning Winter Counts."
—Library Journal
"Rendon deepens the complex character of her eccentric Native American lead, who believes she can read minds and has revelatory out-of-body experiences. Lisbeth Salander fans will be eager to see more of Cash."
—Publishers Weekly
"Lots of menace in this hyperunderstated character piece."
—Kirkus Reviews