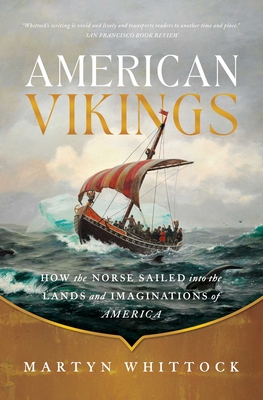 American Vikings: How the Norse Sailed into the Lands and Imaginations of America
Publication Date:
November 7th, 2023
Usually Ships in 1 to 5 Days
Description
A vivid and illuminating new history—separate fact from fiction, myth from legend—exploring the early Vikings settlements in North America.
Vikings are an enduring subject of fascination. The combination of adventure, mythology, violence, and exploration continues to grip our attention. As a result, for more than a millennium the Vikings have traveled far and wide, not least across the turbulent seas of our minds and imaginations.
The geographical reach of the Norse was extraordinary. For centuries medieval sagas, first recorded in Iceland, claimed that Vikings reached North America around the year 1000. This book explores that claim, separating fact from fiction and myth from mischief, to assess the enduring legacy of this claim in America. The search for "American Vikings" connects a vast range of different areas; from the latest archaeological evidence for their actual settlement in North America to the myth-making of nineteenth-century Scandinavian pioneers in the Midwest; and from ancient adventurers to the political ideologies in the twenty-first century. It is a journey from the high seas of a millennium ago to the swirling waters and dark undercurrents of the online world of today.
No doubt, the warlike Vikings would have understood how their image could be "weaponized." In the same way, they would probably have grasped how their dramatic, violent, passionate, and discordant mythologies could appeal to our era and cultural setting. They might, though, have been more surprised at how their image has been commercialized and commodified. A vivid new history by a master of the form, American Vikings explores how the Norse first sailed into the lands, and then into the imaginations, of America.
Praise for American Vikings: How the Norse Sailed into the Lands and Imaginations of America
"In this engaging book, Martyn Whittock analyzes what we can and cannot say for sure about the Vikings' explorations as well as their deep, abiding presence in American culture."
— Christian Science Monitor
"While this is not the only book to detail Norse exploration of the Americas, it offers more information and research than similar titles. Moreover, it offers a very good look at how Viking nostalgia continues to be very popular in America right up to the present day, giving it a fresh and timely feel. It will appeal to those interested in either the Norse themselves or medievalism."
 
— Medievalists.net
"This deep-focus bibliography offers a wealth of additional reading that expands on this endlessly intriguing subject." 
— Post and Courier
"American Vikings is always entertaining. American readers might be surprised to learn how Viking they've always been."
— Open Letters Review
"Whittock takes the reader on this 1,000-year journey in an entertaining and informative fashion, leveraging his extensive background in history to seamlessly incorporate details about the flora of specific American states or the evolution of Marvel comics."
— The Viking Herald
"American Vikings is a compelling exploration of the Viking presence in North America. Through meticulous research the author challenges popular misconceptions and sheds light on the cultural exchanges between Vikings and indigenous peoples. Its wealth of information and accessible writing style make it a valuable resource for Viking enthusiasts and history buffs alike. Whether you are a seasoned scholar or a curious reader, American Vikings offers an engaging and informative journey into the world of the Vikings in North America."
 
— Medieval Archives
"Whittock's accessible and engaging examination of the United States' fascination with Vikings approaches the subject from both historical and cultural perspectives. A fascinating, eminently readable exploration of Viking presence, both real and imaginary, in the United States."
— Library Journal
"Its comprehensive and engaging style, encompassing everything from medieval Norse sagas to the Marvel Cinematic Universe, will be appealing to both high school and college students, as well as the general reader."
 
— World History Encyclopedia
"A lucid survey of Viking lore, archaeological finds, and modern interpretations. The book is authoritative in its details and engagingly written. A solid examination of how the Viking story continues to be told, embellished, and contested."
 
— Kirkus Reviews