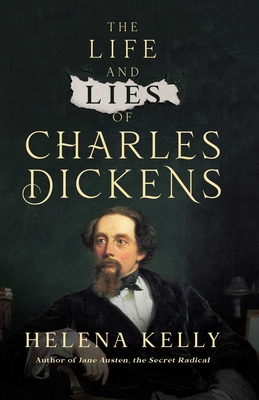 The Life and Lies of Charles Dickens
Publication Date:
October 31st, 2023
Usually Ships in 1 to 5 Days
Description
A radical reassessment of the famed Victorian author, revealing the true story behind the creator of some of literature's best-known novels.
This dynamic new study of Charles Dickens will make readers re-examine his life and work in a completely different light. First, partly due to the massive digitalization of papers and letters in recent years, Helena Kelly has unearthed new material about Dickens that simply wasn't available to his earlier biographers. Second, in an astonishing piece of archival detective work, she has traced and then joined the dots on revelatory new details about his mental and physical health that, as the reader will discover, had a strong bearing on both his writing and his life and eventual death.
Together these have allowed her to come up with a striking hypothesis that the version of his life that Dickens chose to share with his public—both during his lifetime and from beyond the grave in the authorized biography published shortly after his death—was an elaborate exercise in reputation management. Many of the supposed formative events in his life—such as the twelve-year-old Dickens going to work in a blacking factory—may not have been quite as honestly-related as we have been led to believe.
And, in many respects, who can blame him? Dickens's celebrity was on a scale almost unimaginable to any author writing today, with the possible exception of J. K. Rowling, and, like many people who become suddenly famous, he soon realized what a mixed blessing it was.
Praise for The Life and Lies of Charles Dickens
"When Kelly unleashes her inner literary critic, she delights readers with pages upon pages illustrating the enduring influence of Dickens's fictional biography on his fiction. When it comes to literary analysis, Kelly isn't just unimpeachable—she's energizing. For the first time in years, I'm excited to revisit David Copperfield and Oliver Twist. I can picture Dickens scholars passing their big, bold but timeworn questions like a baton, which is an achievement in itself."
— Alexis Coe, The New York Times Book Review
"Kelly uncovers and explains likely truths about Dickens's birthplace, his parents' financial struggles, his multiple infidelities, his "borrowing" of literary material, and his medical conditions. This detailed and well-documented study, confidently and entertainingly written, is perfect for Dickens's fans and literary historians alike."
— Shelf Awareness
"A literary bio that deftly untangles truth from untruth. Diligent research and incisive close readings of Dickens' writings ground Kelly's investigation into the gaps, contradictions, and inconsistencies in the manipulated, self-serving story that many subsequent biographers have repeated: 'Who and what can we trust in this narrative?'" 
— Kirkus Reviews
Praise for Jane Austen, the Secret Radical:
"Bracing. Plausible and vivid."
— The Atlantic
"A thoroughly engaging read." - The Times Literary Supplement
"An important revisionary work. Helena Kelly provokes."
— The New York Times
 "Kelly argues passionately and engagingly. Her critical method is . . . generating meaning from the smallest details of the novels."
— The Washington Post
"Do we read Jane Austen's novels as she intended? In this riveting literary-biographical study, the answer is a resounding no.  An interpretive coup that is dazzling and dizzying . . . You won't read Austen the same way again."
— The New Yorker
"A fresh take on the life and work of the beloved writer Jane Austen. Reveals the subversive rebel soul behind such towering classics as Sense and Sensibility, Pride and Prejudice, and Mansfield Park."
— Elle