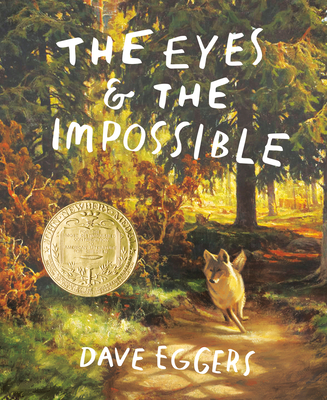 The Eyes and the Impossible
Publication Date:
May 9th, 2023
Publisher:
Knopf Books for Young Readers
Usually Ships in 1 to 5 Days
Description
NEW YORK TIMES BESTSELLER • SIX STARRED REVIEWS
From the award-winning author of The Every and the illustrator behind the beloved picture book Her Right Foot comes an endearing and beautifully illustrated story of a dog who unwittingly becomes a hero to a park full of animals.
Johannes, a free dog, lives in an urban park by the sea. His job is to be the Eyes—to see everything that happens within the park and report back to the park's elders, three ancient Bison. His friends—a seagull, a raccoon, a squirrel, and a pelican—work with him as the Assistant Eyes, observing the humans and other animals who share the park and making sure the Equilibrium is in balance. 
But changes are afoot. More humans, including Trouble Travelers, arrive in the park. A new building, containing mysterious and hypnotic rectangles, goes up. And then there are the goats—an actual boatload of goats—who appear, along with a shocking revelation that changes Johannes's view of the world.
A story about friendship, beauty, liberation, and running very, very fast, The Eyes & the Impossible will make readers of all ages see the world around them in a wholly new way.
Praise for The Eyes and the Impossible
"Johannes is a highly engaging narrator whose exuberance and good nature run like a bright thread through the novel's pages…. There is a deeper story here, too, about being yourself and finding freedom." —New York Times
"[Johannes is] one of the most appealing heroes in recent children's literature... an early standout for 2023 and, as it happens, a lot of fun to read aloud." —The Wall Street Journal
"This outstanding adventure story weaves complex thoughts about loyalty, friendship, and purpose into an epic escape plot that's pure bliss to read." —Common Sense Media
"This book is begging to be read aloud to oneself and to others. You'll want to use your most special bookmark and find an honored place to keep this gem." —The Denver Post
★ "Utterly delightful…. Eggers touches on deep topics with a light hand, effortlessly building suspense and a wonderful sense of adventure." —Booklist, starred review
★ "One remarkable creature vividly shows readers that 'there is so, so much to see.'" —Kirkus Reviews, starred review
★ "Eggers crafts a marvelous, fully fleshed protagonist in Johannes....whose compassionate narration delivers a rousing tale of community, joyful self-reliance, and the pleasures of running very, very fast." —Publishers Weekly, starred review
★ "Animal lovers will be enthralled, and even for readers who mostly stick with humans, this is a standout example of the power of chosen family rather than biological ones." —The Bulletin, starred review
★ "The Eyes and the Impossible is compelling and heartfelt, destined to be read again and again." —Shelf Awareness, starred review
★ "Almost proselike, the voices and personalities of Johannes and his comrades are endearing; their unique story will enchant readers and encourage them to focus on what is most important in life."
—School Library Journal, starred review