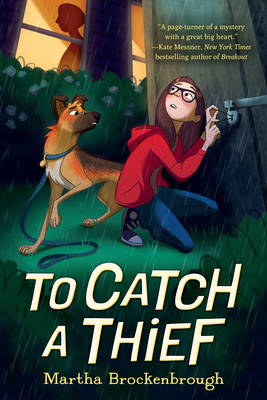 To Catch a Thief
Publication Date:
April 4th, 2023
Publisher:
Scholastic Press
Usually Ships in 1 to 5 Days
Description
"To Catch a Thief is a page-turner of a mystery with a great big heart, and Amelia MacGuffin is the smart, funny kid sleuth we've all been waiting for. Readers will laugh and fall in love with the MacGuffin family as they follow the clues to crack this absolutely delightful case." --Kate Messner, New York Times bestselling author of Blackout
Urchin Beach isn't the sort of place where bad things happen. The little seaside town is too lucky for that. But then one day, a thief steals something precious—the town's dragonfly staff, which is the source of all its good fortune and the most important part of the upcoming Dragonfly Day Festival.
Amelia MacGuffin is no detective. She's eleven, quiet, and unlike her four younger siblings, she has no special talents. But Amelia loves her town. Her family has lived there forever. Her parents run the Pacific General Store, and she and her best friends, Birdie and Delphine, are about to start middle school. If Amelia doesn't find the staff, the Dragonfly Day Festival will be canceled .
The town needs that tourist money to survive. Unless she cracks the case, Amelia's family will lose everything--including the adorable stray dog they've fallen in love with. She only has seven days to solve Urchin Beach's crime of the century. It's not a lot of time, but Amelia has her list of suspects. It might be the new kids next door. Or the grumpy mystery writer who lives in the town's creepiest mansion. Or perhaps even someone closer to home.
Amelia wants to save the town. She wants to save the dog. She wants both, so much.
But first, she has to catch a thief.
Praise for To Catch a Thief
Praise for To Catch a Thief
"To Catch a Thief is a page-turner of a mystery with a great big heart, and Amelia MacGuffin is the smart, funny kid sleuth we've all been waiting for. Readers will laugh and fall in love with the MacGuffin family as they follow the clues to crack this absolutely delightful case." --Kate Messner, New York Times bestselling author of Blackout
"Get ready to have your heart stolen. With its wit and warmth, this treasure of a book deserves to be on every bookshelf next to the Penderwicks and Because of Winn-Dixie." --Justina Chen, author of Lovely, Dark, and Deep
"To Catch a Thief isn't just a fascinating and ever-deepening mystery. It's also a testament to the power of telling the right story the right way, and the transformative love of an absurdly charming dog." —Eliot Schrefer, New York Times bestselling author of the Lost Rainforest series
"This is the kind book I loved as a kid -- and still love now. The kind you read once through to figure out the mystery and then over and over again so you can spend more time with Amelia and the rest of the MacGuffins, drinking proper hot chocolate, cuddling Doc, and solving thrilling crimes." --Linda Urban, author of A Crooked Kind of Perfect
"To Catch a Thief is the coziest of mysteries, a love letter to families and neighbors, the story of a very good dog, and further proof that Martha Brockenbrough can write whatever kind of book she wants to -- and do it superbly." --Mike Jung, author of The Boys in the Back Row
"With a rare combination of wit and heart, Martha Brockenbrough crafts a charming mystery that celebrates the value of community, the power of finding your voice, and, best of all, the wonderful things that can happen when you have a very good dog at your side." --Anne Ursu, author of The Trouble Girls of Dragomir Academy
"A cozy mystery aimed at the heart." --Publishers Weekly
"This is a well-imagined, absorbing world, the story original and inviting. A sweet and satisfying mystery." --Kirkus Reviews