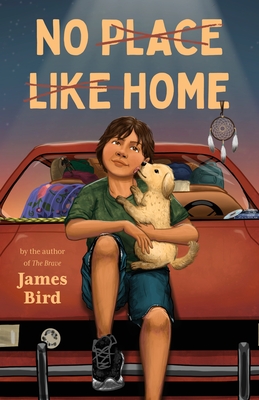 No Place Like Home
Publication Date:
August 8th, 2023
Publisher:
Feiwel & Friends
Usually Ships in 1 to 5 Days
Description
A middle-grade novel by James Bird about homelessness and hope.

When home is a car, life is unpredictable. School, friends, and three meals a day aren't guaranteed. Not every town has a shelter where a family can sleep for a night or two, and places with parking lots don't welcome overnight stays.
Opin, his brother Emjay, and their mother are trying to get to Los Angeles, where they hope an uncle and a new life are waiting. Emjay has taken to disappearing for days, slowing down the family's progress and adding to their worry.
Then Opin finds a stray dog who needs him as much as he needs her, and his longing for a stable home intensifies, as his brother's reckless ways hit a new high. Opin makes a new friend in the shelter, but shelters don't allow dogs…
Will anything other than a real home ever be enough?
Praise for No Place Like Home
A Book Riot "Best New Children's Book of August 2023"
"Author Bird crafts this deeply felt ode to familial love with authoritative prose.... Opin's palpable fears, joys, and unrelenting hope buoy this tale of resilience." -- Publishers Weekly, starred review
"James Bird, who has been homeless and is of Ojibwe descent, writes with rare authority, insight, and compassion that invites deep empathy from readers. He has done a beautiful job of creating an unforgettable family, who, as Inde says, "may be broke, but we're not broken." -- Booklist, starred review
"An urban Native American boy's gripping survival story...complex and emotionally resonant." -- Kirkus Reviews