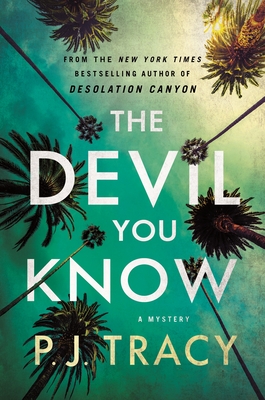 The Devil You Know: A Mystery (The Detective Margaret Nolan Series #3)
Publication Date:
October 31st, 2023
Publisher:
Minotaur Books
Usually Ships in 1 to 5 Days
Description
Darkness is nothing new to LAPD Detective Margaret Nolan, but in P.J. Tracy's The Devil You Know, even she isn't prepared for the scandalous deception of deadly proportions that shakes the very foundation of Hollywood and its untouchables…and leaves her entangled in its rotten core.
Los Angeles has many faces: the real LA where regular people live and work, the degenerate underbelly of any big city, and the rarefied world of wealth, power, and celebrity. LAPD Detective Margaret Nolan's latest case plunges her into this insular realm of privilege, and gives her a glimpse of the decay behind the glitter.
Beloved actor Evan Hobbes is found in the rubble of a Malibu rockslide, a day after a fake video ruins his career. It's not clear to Nolan if it's an accident, a suicide, or a murder, and things get murkier as the investigation expands to his luminary friends and colleagues. Meanwhile, Hobbes's agent is dealing with damage control, his psychotic boss, and a woman he's scorned.
Praise for The Devil You Know: A Mystery (The Detective Margaret Nolan Series #3)
Praise for The Devil You Know
"[A] terrific series. . . Tracy's creating a literary landscape similar to Margaret Millar and Robert Crais." –Star Tribune
"Great atmosphere, vivid characters, and an intricate fair play plot that surprises as it twists its way to a satisfying resolution make this a winner." –Publishers Weekly
"Who needs movies anyway when you have books as laden with dirty secrets as this one?" –Kirkus Reviews
"A fine series. . . Margaret Nolan is a strong, intelligent, and aggressive investigator, a cop who won't stop until she finds the truth. . . [Tracy] is an efficient storyteller. There is no excess weight here; every scene has a purpose, and there's no conversational time-wasting. Here's hoping there are many more Margaret Nolan mysteries to come." –Booklist
"L.A. Brilliant! . . . A candidate for one of my best of the year!" –Kings River Life
Praise for The Detective Margaret Nolan Mysteries
"Tracy seems to have found her literary sweet spot." —Marilyn Stasio, The New York Times Book Review
"Riveting. . . Tracy's characters are richly developed and seriously human, each struggling with how to overcome their dangerous dark pasts." — Minneapolis Star Tribune
"Tracy draws each scene with the skill of a brilliant artist and hits every note like a master maestro." —Jon Land, Providence Sunday Journal
"Peak-excitement…Tracy's plots are growing more intricate and her characters more layered." —Twin Cities Pioneer Press
"Something for everyone, and then some." —Kirkus Reviews