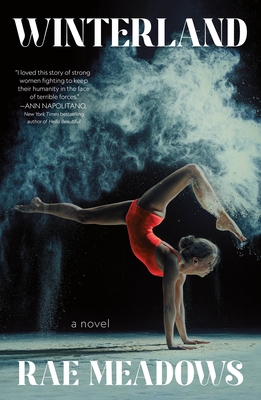 Winterland: A Novel
Publication Date:
November 7th, 2023
Publisher:
Holt Paperbacks
Usually Ships in 1 to 5 Days
Rae Meadows'Winterlandis more than a story of women, and more than an expose of the abuse young gymnasts endure. It is a moving portrait of an authoritarian country and how hard it is to know when or how to stand up to what we know is wrong."
December 2022 Indie Next List
Description
Perfection has a cost . . . With transporting prose and meticulous detail, set in an era that remains shockingly relevant today, Rae Meadows's Winterland tells a story of glory, loss, hope, and determination, and of finding light where none exists.
Soviet Union, 1973: There is perhaps no greater honor for a young girl than to be chosen for the famed USSR gymnastics program. When eight-year-old Anya is selected, her family is thrilled. What is left of her family, that is. Years ago, her mother disappeared without a trace, leaving Anya's father devastated and their lives dark and quiet in the bitter cold of Siberia. Anya's only confidant is her neighbor, an older woman who survived unspeakable horrors during her ten years imprisoned in a Gulag camp—and who, unbeknownst to Anya, was also her mother's confidant and might hold the key to her disappearance.
As Anya rises through the ranks of competitive gymnastics, and as other girls fall from grace, she soon comes to realize that there is very little margin of error for anyone and so much to lose.
Praise for Winterland: A Novel
"With meticulous precision and smart, poetic prose, Meadows vaults us into the chilling and eerily relevant world of Soviet-era gymnastics. Get ready to fall in love with eight-year-old Anya, who offers us a heart-wrenching view of what it means to live, love and compete in a sport where one wrong move or the whisper of dissent can ruin you. This book is full of heart."
—Georgia Hunter, New York Times bestselling author of We Were the Lucky Ones
"[Rae Meadows's] gemlike novel... rests—panting, gasping, breathing—in the span between Anya's tiny but powerful shoulders. With every cracking bone and snapped ligament, we long for Anya's success even as it imperils her. We long for her rescue even as we both know that success means buying only a little more time before the end."
–Megan Abbott, The New York Times
"Winterland gripped me from the first page. I loved this story of strong women fighting to keep their humanity in the face of terrible forces: Siberian winters, demanding gymnastics coaches, lost mothers and Gulag camps. Rae Meadows is a gifted writer, and I was thrilled to find myself in a landscape I knew nothing about, rooting for a young gymnast named Anya."
—Ann Napolitano, New York Times bestselling author of Dear Edward
"Winterland is a rich and powerful novel in which Rae Meadows displays her talents and her subtilty as she captures the essence of sport, the power of ambition, and the menacing hand of totalitarianism whether wielded by the state, society, or individuals."
—New York Journal of Books
"In the best of cases, books are more than just entertainment. Sometimes, they play a vital role in connecting us during divided times, across generations and cultures, reminding us that as human beings, we all have the common ground of love and want and pain. Winterland is one such book—an intimate look at the Soviet Union in the 1970s, a lost mother, and a daughter's journey to become a star Olympic gymnast, forced to choose between what's right for her and what's asked of her by a state that demands the impossible. Steeped in rich cultural detail and written with the confidence of someone who has spent much time in the trenches of gyms just like the ones Anya inhabits, Winterland will immerse you in rich period detail, the joy and anguish of first love, and the heartache of unimaginable loss and sacrifice. Both a searingly immersive tale and an important book for our times, Winterland is a must-read, for it will remind you that while we may live in a world divided, we are, as individuals, all similarly fragile, hopeful, and ultimately human at our core. Impeccably researched and beautifully written."
—Kristin Harmel, New York Times bestselling author of The Book of Lost Names and The Forest of Vanishing Stars
"Winterland is a story as gripping as it is a powerful rendering of the true cost of perfection. In beautifully written, thrilling prose, Rae Meadows takes us deep into the world of the USSR's gymnastics program. As we see eight-year-old Anya rise to the top of this ultra-competitive and punishing sport, the mystery of the disappearance of her mother begins to unfold. Combining a page turning plot with fully formed characters, Meadows has written a novel that reflects the current moment. I was left breathless."
—Lara Prescott, New York Times bestselling author of The Secrets We Kept
"Rae Meadows brings the gruelling world of Olympic dreams to vivid life in Winterland, a searing tale of a young girl finding her path in Soviet-era gymnastics. Anya's childhood is centered around the mysterious disappearance of her mother, an event that anchors the book in a spiral of questions. Heart-breaking and thought-provoking, imbued with the beautiful fragility and terror of athletic excellence, this is a story of unfolding friendship and adversity that will linger with readers for long afterwards."
—Yangsze Choo, New York Times bestselling author of The Night Tiger
"Rae Meadows always writes with absolute clarity and power, and it is a pleasure to soar through the air with her in Winterland, weightless, strong, and capable of anything."
—Emma Straub, New York Times bestselling author of All Adults Here
"Rae Meadows' captivating 1970s Soviet-era tale echoes the stark landscape of its Siberian setting. A ballerina goes missing; her husband pieces his life together, as their young daughter is ushered into the grueling sport of Olympic gymnastics. Meadows testifies to the invincible human spirit."
—The Christian Science Monitor
"Meadows paints a poignant portrait of life behind the Iron Curtain, palpably conveying her vividly rendered characters' deprivation, longing, and self-sacrifice. Fans of Megan Abbott's You Will Know Me should take note."
—Publisher's Weekly
"Meadows' absorbing fifth novel follows a promising young Soviet gymnast as she enters a ruthless sports system that emphasizes winning at all costs... Writing with a confidence based on excellent research, Meadows vividly depicts the Soviet training system—and its abuses... An enlightening portrait of a now-vanished world."
—Kirkus Reviews
"Meadows skillfully articulates the risks and rewards of high-level competition, the divine feeling of being chosen to represent one's country and the fragility of the human body... Winterland is a historic look back at a generation of Soviet talent, ambition, and sacrifice, inside and outside the gym."
–Booklist, starred review
"Quoting aptly from the poems of Marina Tsvetaeva and liberally slinging Russian vulgarities along with gymnastics lingo, Meadows [...] captures the risks so recently headlined by Simone Biles and other champions in her fifth novel…Spanning the final decades of the 1900s, [Winterland] is a genre-bender that fluently integrates sports with accents from political and psychological thrillers."
–Library Journal
"Chillingly good... The author's sensitive exploration of her story's historical context makes Winterland a sports story like none other."
–Duluth News Tribune
"The brutal landscape and the gracefully rendered, even more, brutal lives of Anya, Vera, and others make Winterland a perfect winter read."
–City Book Review
"[A] story of an era shaped by glory and loss and about forging a life when you no longer are what you were."
–Historical Novel Society