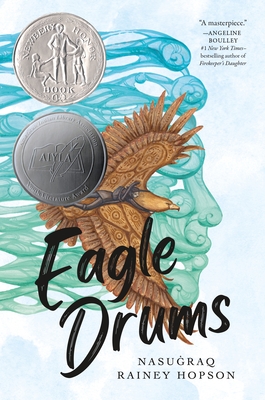 Eagle Drums
Publication Date:
September 12th, 2023
Publisher:
Roaring Brook Press
Usually Ships in 1 to 5 Days
Description
A magical realistic middle grade debut about the origin story of the Iñupiaq Messenger Feast, a Native Alaskan tradition.
As his family prepares for winter, a young, skilled hunter must travel up the mountain to collect obsidian for knapping—the same mountain where his two older brothers died.
When he reaches the mountaintop, he is immediately confronted by a terrifying eagle god named Savik. Savik gives the boy a choice: follow me or die like your brothers.
What comes next is a harrowing journey to the home of the eagle gods and unexpected lessons on the natural world, the past that shapes us, and the community that binds us.

Eagle Drums by Nasuġraq Rainey Hopson is part cultural folklore, part origin myth about the Messenger's Feast – which is still celebrated in times of bounty among the Iñupiaq. It's the story of how Iñupiaq people were given the gift of music, song, dance, community, and everlasting tradition.
Praise for Eagle Drums
A NPR Best Book of the Year
An Evanston Public Library Great Book for Kids
A BookPage Best Middle Grade Book of 2023
"A soaring story of family and courage, culture and community, wonder and resilience." —CYNTHIA LEITICH SMITH, anthologist of Ancestor Approved: Intertribal Stories for Kids
"An epic journey in every sense of the word, Eagle Drums is a new classic. Pinja welcomes the reader to travel with him on this treacherous quest and by the time his voyage is complete, you will grieve, struggle, and celebrate alongside him." —DONNA BARBA HIGUERA, author of Newbery Medal winner The Last Cuentista
"Nasuġraq Rainey Hopson has accomplished something truly monumental. Through her impressive talents as a writer and artist, Rainey shares cultural teachings and, indeed, the art of storytelling with readers of all ages. Eagle Drums is a masterpiece!" —ANGELINE BOULLEY, author of the #1 New York Times bestseller Firekeeper's Daughter
"Tears at this beautiful story. Where were these books when I was a teen?!" —CAROLE LINDSTROM, author of Caldecott Medal winner We Are Water Protectors
"Eagle Drums is a deeply compelling folktale brought to life. Readers of any age will be swept away by this fascinating story."—DAN GEMEINHART, author of the #1 New York Times bestseller The Midnight Children
""I'll read anything Nasuġraq Rainey Hopson writes. She never fails to pull me in and keep me guessing as to what will happen next. Her masterful storytelling in Eagle Drums is superb and not to be missed." —TRACI SORRELL, award-winning author of Indian No More
★ "Eagle Drums marks the impressive debut of a gifted writer. Rainey gives readers an engrossing, exciting look into Iñupiaq culture while offering invaluable lessons about the power of community, kinship and celebrations." —BookPage, starred review
★ "Iñupiaq author and illustrator Hopson enhances the story with full-page color illustrations that visually connect readers with Piŋa's journey and emphasize the importance of connections to nature, spiritual beings, and human relatives." —Kirkus, starred review

"The narrative showcases a treasury of details about Native Alaskan life and traditions; enthralling details of building design, clothing, crafts, food storage, nutrition, transportation, and other day-to-day practices in the Arctic will appeal to survival story afficionados as well as readers eager to learn about Indigenous cultures and histories." —The Bulletin of the Center for Children's Books

"In this poignant adventure, the creator employs rhythmic prose that echoes the story's oral traditions and offers illustrations rendered in rich, textured hues." —Publishers Weekly

"Hopson deftly describes smells (the autumn earth, the "dusty rot" of the Eagle Mother), tastes (berries, roasted caribou meat, bitter Arctic hare fed on willow bark), and sounds (marmot whistles, bumblebees) that bring the land to life for the reader and ground this archetypal hero's journey in the real world." —Horn Book
"In her debut, Hopson offers a culturally specific survival story that should have much appeal; an author's note clarifies the source for this tale." —Booklist