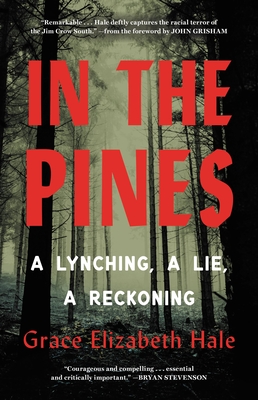 In the Pines: A Lynching, A Lie, A Reckoning
Publication Date:
November 7th, 2023
Publisher:
Little, Brown and Company
Usually Ships in 1 to 5 Days
Description
In this "courageous and compelling … essential and critically important" book (Bryan Stevenson), an award-winning scholar of white supremacy tackles her toughest research assignment yet: the unsolved murder of a Black man in rural Mississippi while her grandfather was the local sheriff—a cold case that sheds new light on the hidden legacy of racial terror in America.
A Washington Post Noteworthy Book | An Amazon Best Book of the Month
Grace Hale was home from college when she first heard the family legend. In 1947, while her beloved grandfather had been serving as a sheriff in the Piney Woods of south-central Mississippi, he prevented a lynch mob from killing a Black man who was in his jail on suspicion of raping a white woman—only for the suspect to die the next day during an escape attempt. It was a tale straight out of To Kill a Mockingbird, with her grandfather as the tragic hero. This story, however, hid a dark truth.
Years later, as a rising scholar of white supremacy, Hale revisited the story about her grandfather and Versie Johnson, the man who died in his custody. The more she learned about what had happened that day, the less sense she could make of her family's version of events. With the support of a Carnegie fellowship, she immersed herself in the investigation. What she discovered would upend everything she thought she knew about her family, the tragedy, and this haunted strip of the South—because Johnson's death, she found, was actually a lynching. But guilt did not lie with a faceless mob.
A story of obsession, injustice, and the ties that bind, In the Pines casts an unsparing eye over this intimate terrain, driven by a deep desire to set straight the historical record and to understand and subvert white racism, along with its structures, costs, and consequences—and the lies that sustain it. 
Praise for In the Pines: A Lynching, A Lie, A Reckoning
"A gripping investigation."—People Magazine
"Lies, distortions, and ignorance have obscured the pain and tragedy of racial terror lynchings in America for decades. We will never recover from this violent history without truth-telling, which makes Grace Hale's courageous and compelling book so essential and critically important."—Bryan Stevenson, #1 New York Times bestselling author of Just Mercy
"A profound act of narrative repair, in which a sheriff's granddaughter, now a renowned historian, rolls up her sleeves to rip the dressing off one of the nation's deepest wounds—one in which her own beloved grandfather was complicit. Fierce and unflinching, with moments of startling beauty as well as horror, this myth-breaking history dives into our nation's darkest past, exposing not just what we have done but how we must learn to speak of these realities. In Hale's essential recounting, Versie Johnson cannot return to life, but the memory of this murdered man's life and death are justly summoned, and past becomes powerfully present."—Ilyon Woo, New York Times bestselling author of Master Slave Husband Wife
"In this utterly absorbing narrative, Grace Hale reckons with America's history of white supremacy through the lens of her own personal inheritance. In the Pines is intimate, devastating, and historically meticulous—a must-read, and more relevant than ever."—Gilbert King, Pulitzer Prize-winning author of Devil in the Grove
"In confronting her family's involvement in the lynching of a Black man in 1940s Mississippi, Grace Elizabeth Hale deftly mines Southern history and gives voice to its unspoken truths. In the Pines is a brave exploration of the persistence of white supremacy not only in the South but more broadly in American culture."—W. Ralph Eubanks, author of A Place Like Mississippi and Ever Is a Long Time
"Grace Hale is a phenomenal historian, a dogged researcher, and a gifted writer. In this fascinating new book, she trains her talents on the troubled racial history of her own family, with riveting results."—Kevin M. Kruse, author of One Nation Under God and co-editor of the New York Times bestselling Myth America
"Grace Hale writes with the power of fiction as she uses her family's past to reveal the long, tragic history of violence against Black Americans to preserve white supremacy. An intimate, wrenching story, In the Pines deserves to be read by every American."—William Ferris, author of The Storied South and Grammy Award–winning creator of Voices of Mississippi
"An important story … enriched by the urgency of national and personal reckoning."—Booklist
"[A] riveting investigation of a family legend … Hale's narrative is both deeply personal and steeped in the history of the rural Deep South. It's a harrowing look at white supremacist violence and the lies that allowed it to flourish."—Publishers Weekly
"[A] thoughtful narrative… In the Pines is elevated by lovely writing… It is also marked by incisive thinking about race in history and in the present. Hale's work is a significant contribution to that larger conversation."—Shelf Awareness