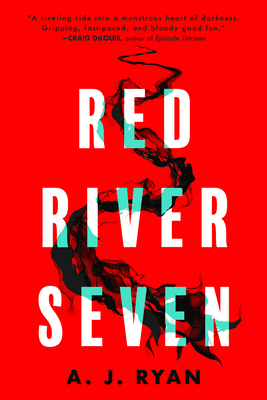 Red River Seven
Publication Date:
October 10th, 2023
Usually Ships in 1 to 5 Days
Description
Seven strangers. One mission. Infinite horror.
A man awakes on a boat at sea with no memory of who or where he is. He's not alone - there are six others, each with a unique set of skills. None of them can remember their names. All of them possess a gun.
When a message appears on the onboard computer - Proceeding to Point A - the group agrees to work together to survive whatever is coming.
But as the boat moves through the mist-shrouded waters, divisions begin to form. Who is directing them and to what purpose? Why can't they remember anything?
And what are the screams they can hear beyond the mist?
Internationally bestselling fantasy author Anthony Ryan - writing as A. J. Ryan - delivers a nerve-shredding thriller in which seven strangers must undertake a terrifying journey into the unknown.
Praise for Red River Seven
"Bestseller Ryan demonstrates that his narrative gifts extend well beyond epic fantasy in this nail-biting postapocalyptic thriller ... With thoughtful characterization and an innovative variation on a familiar theme, this impressive horror tale wows."—Publishers Weekly (Starred Review)
"A. J. Ryan's Red River Seven bursts onto the page like a riveting ride into a monstrous heart of darkness, starting out as a locked-room mystery and steadily stomping the gas to become an edge-of-your seat apocalyptic thriller. Gripping, fast-paced, and bloody good fun."—Craig DiLouie, author of Episode Thirteen
"Bird Box meets World War Z in the genre-bending Red River Seven, a madly entertaining amalgam of locked-room mystery, heart-racing thriller, and terror-inducing horror show that will keep you up late into the night and darken your dreams long after you turn the last page."—Philip Fracassi, author of Boys in the Valley
"Full of both suspense and action, Red River Seven is Apocalypse Now meets Resident Evil."—RJ Barker, author of Gods of the Wyrdwood
"A.J. Ryan charts a relentlessly inventive course to the dark heart of an extinction-level event. Soaked in terror and shrouded in fog, this book demands to be gulped down in one sitting. It's Apocalypse Now ripped from its moorings, transfigured for a time when the apocalypse is, literally, now." —Andy Marino, author of It Rides a Pale Horse
"With well-drawn characters, an engrossing story, and a spectacular finale, this one is a triumph."—Booklist