Discounted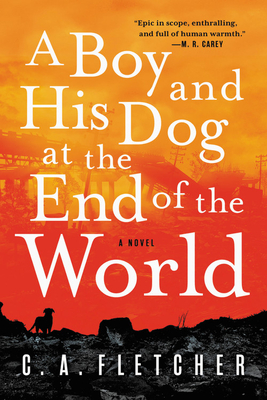 A Boy and His Dog at the End of the World: A Novel
Previous price:

$19.99
Current price:

$18.99
Publication Date:
January 21st, 2020
Usually Ships in 1 to 5 Days
Description
A "suspenseful, atmospheric tale. . .punctured by a gut-punch twist" (Entertainment Weekly), A Boy and His Dog at the End of the World is a story of survival, courage and hope amid the ruins of our world.
My name's Griz. I've never been to school, I've never had friends, and in my whole life I've not met enough people to play a game of football. My parents told me how crowded the world used to be, before all the people went away. But we were never lonely on our remote island. We had each other, and our dogs.
Then the thief came.
"This unputdownable story has everything -- a well-imagined post-apocalyptic world, great characters, incredible suspense, and, of course, the fierce love of some very good dogs." -- Kirkus (starred review)
Praise for A Boy and His Dog at the End of the World: A Novel
"Fletcher's suspenseful, atmospheric tale imagines a near future in which our world is in ruins... An adventure saga punctured by a gut-punch twist."—Entertainment Weekly
"[A] heart-and gut-wrenching tale of a post-apocalyptic world....A Boy and His Dog at the End of the World takes a memorable journey of loyalty and love and transforms it into an unraveling mystery of self-discovery and exploration....This is the story of trust and loyalty within a family, and finding your own pack-even if they're different from the pack you were born into."—Bookpage
"The hunt for Jess propels this story forward like a rocket, and Fletcher does a masterful job keeping the stakes high and the suspense crackling while still creating plenty of space for readers to get to know Griz and explore this fascinating not-quite-empty world. This unputdownable story has everything-a well-imagined post-apocalyptic world, great characters, incredible suspense, and, of course, the fierce love of some very good dogs."—Kirkus Reviews (starred)
"Fletcher writes with an elegantly descriptive style, one that brings this melancholic world to bittersweet life....Whether it's the rusting remains of an amusement park, or the dusty floors of a tucked away sanctuary, Fletcher makes the reader feel like they're standing there, right beside Griz, desperate to find out where to go next."—Lightspeed
"A sharp, meditative exploration of family, loyalty, and humanity amid the lonely but beautiful wilderness of the end of the world-but with a gut punch you'll never see coming. You'll remember A Boy and His Dog at the End of the World long after you finish reading."—Peng Shepherd, author of The Book of M
"If you read one book this year, I beg you that this be the one. A Boy and His Dog at the End of the World will break your heart in all the right ways."—Nerd Daily
"Epic in scope, enthralling, and full of human warmth."—M.R. Carey, author of The Girl With All the Gifts
"This novel has everything I love about a story: fully realized characters, beautiful writing, and utterly believable, even frightening, world-building. I promise you're going to love it."—Louisa Morgan, author of A Secret History of Witches
"Fletcher's narrative...has a propulsive and engaging rhythm and should please fans of postapocalyptic dystopias, young adult and adult alike."—Booklist