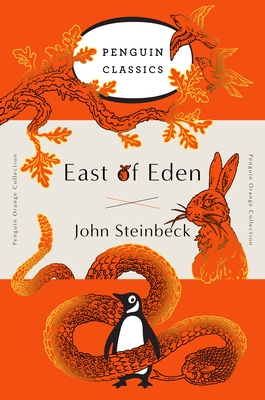 East of Eden: (Penguin Orange Collection)
Publication Date:
October 18th, 2016
Publisher:
Penguin Classics
Usually Ships in 1 to 5 Days
Description
Part of the Penguin Orange Collection, a limited-run series of twelve influential and beloved American classics in a bold series design offering a modern take on the iconic Penguin paperback
A Penguin Classic
Winner of the 2016 AIGA + Design Observer 50 Books | 50 Covers competition
For the seventieth anniversary of Penguin Classics, the Penguin Orange Collection celebrates the heritage of Penguin's iconic book design with twelve influential American literary classics representing the breadth and diversity of the Penguin Classics library. These collectible editions are dressed in the iconic orange and white tri-band cover design, first created in 1935, while french flaps, high-quality paper, and striking cover illustrations provide the cutting-edge design treatment that is the signature of Penguin Classics Deluxe Editions today.

East of Eden
 
The masterpiece of Steinbeck's later years, East of Eden is a sprawling epic in which Steinbeck created his most mesmerizing characters and explored his most enduring themes: the mystery of identity, the inexplicability of love, and the murderous consequences of love's absence.
Praise for East of Eden: (Penguin Orange Collection)
By the Winner of the Nobel Prize in Literature
"A novel planned on the grandest possible scale . . . One of those occasions when a writer has aimed high and then summoned every ounce of energy, talent, seriousness, and passion of which he was capable. . . . It is an entirely interesting and impressive book." —The New York Herald Tribune
"A fantasia and myth . . . A strange and original work of art." —The New York Times Book Review
"A moving, crying pageant with wilderness strengths." —Carl Sandburg
"When the book club ended a year ago, I said I would bring it back when I found the book that was moving . . . and this is a great one. I read it for myself for the first time and then I had some friends read it. And we think it might be the best novel we've ever read!" —Oprah Winfrey